Employee Benefits to Help You Recruit and Retain Top Talent
(available to Core and Institution Life Science Washington members and, in many cases, Associate members)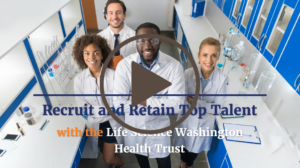 Advanced Professionals Insurance & Benefit Solutions is committed to making healthcare benefits simpler and more affordable for small and medium-sized businesses. Through our partnership with Life Science Washington, Advanced Professionals offers comprehensive employee benefits to member companies through the Life Science Washington Health Trust.
Created specifically for Life Science Washington members, the Health Trust enables employers to offer leading insurance benefit options that meet demand for growing companies, with comprehensive benefits for as few as two employees or as many as 199.
Recruit and retain top talent with the Health Trust's competitive and affordable health and wellness benefits from trusted providers, including:
Medical – Premera Blue Cross
Dental – Delta Dental of Washington
Vision – VSP Vision Care Inc.
Life, Disability and Accidental Death – Unum
Employee Assistance Program – Wellspring EAP
Identity Protection – Allstate Identity Protection
The robust program offers comprehensive medical plans with significant first dollar benefits and deductibles that range from $0-$5,000, along with a broad range of virtual care services that include primary care, urgent care, behavioral health therapy and substance use abuse.

The Life Science Washington Health Trust is committed to making administration of your company benefits easy and painless – providing consolidated billing and a convenient employer management web platform – so that you can focus on changing the world.

For more information or to get a quote, please contact Nathan Edmondson, Sales Manager for the Life Science Washington Health Trust, at nathan.edmondson@advprofessionals.com or 206-602-3558.