Life Science Washington has partnered with American Laboratory Trading (ALT), Bio's preferred vendor for laboratory surplus asset recovery and premium refurbished lab equipment, to offer discounts on lab asset management services and purchases of premium refurbished equipment.

LSW member benefits include the following and more:
Equipment Purchase:
Free one-year equipment warranty
15% no-hassle discount on list price*
10% additional discount on sale items*
5% discount on all Agilent Certified Pre-owned products, up to a maximum of $1,500
2% store credit toward future equipment purchases from ALT* Agilent factory-refurbished equipment excluded
Asset Management Services:
20% discount on asset management services
10% bonus on standard consignment split
5% bonus on seller's premium in auctions
2% store credit for cash offers on equipment ALT purchases
Free subscription to LabDesk asset management software (Lite version)
10% discount on all other subscriptions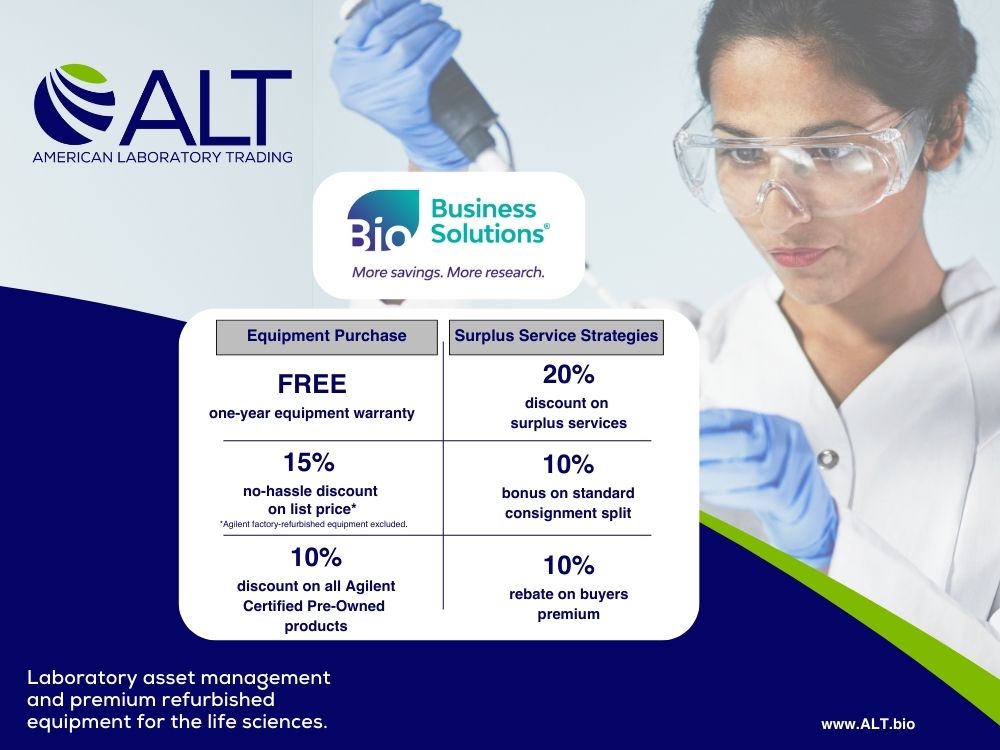 ALT is a full-service provider of premium refurbished lab equipment and surplus strategy services for the life sciences. With more than 6,000 instruments, ranging from small benchtop accessories to robust triple quad mass spectrometers, all items are carefully refurbished and delivered with a one-year warranty. ALT also purchases, consigns, trades, or auctions your surplus equipment to monetize your assets and maximize your ROI. ALT is also a trusted provider of laboratory asset management services, helping companies and research institutions to safely dispose of and recycle their surplus laboratory equipment while maximizing their return on investment.
Whether you need to monetize a few instruments or liquidate an entire lab, nobody delivers a higher ROI for your surplus assets than ALT.