Life Science Support for Every Phase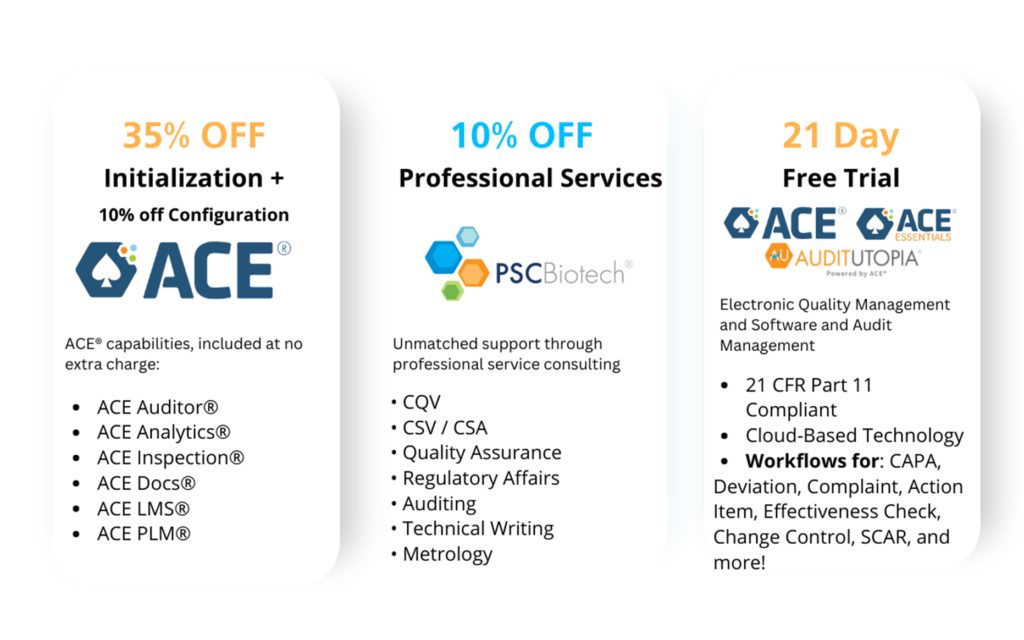 PSC Biotech® is one of the world's largest specialty life sciences consultancy firms, supporting over 1000 clients in more than 35countries. For over 25years, PSC® has provided life science companies with unmatched support through professional services consulting, life science equipment rentals and sales, cloud-based software solutions, and pharmaceutical contract manufacturing. As BIO's preferred vendor for life science professional consulting services and software solutions, PSC partners with Life Science Washington to provide its members exclusive discounts on all professional consulting services and eQMS software solutions.

Industries We Serve
Medical Device | Biotechnology | Pharmaceutical/API | Food & Beverage | Biopharmaceutical| Nutraceuticals | Cosmetics | Cannabis | Cell Therapy | Diagnostics | Blood Banks |Homeopathic | Biologics | Gene Therapy | Personalized Medicine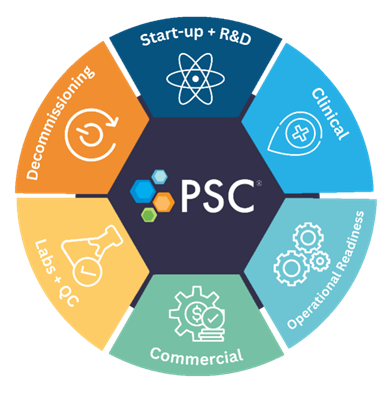 Startup-Focused Support
PSC Consultants can support your company early on, including in the R&D/startup phase. Using Good Laboratory Practices and building a strong foundation in Quality can simplify your company's future transition into the clinic and commercial phases. Our subject matter experts can develop procedures and policies to help you control your company processes, assets, vendors, and training programs. Organization in these areas help you put your best foot forward to investors, your potential large pharma partner companies, and research grant programs. The PSC team also includes PhD-level consultants experienced in grant writing that can help you navigate the writing and submission process while applying for grants.
Research and Development
As your company moves from discovery to research and development scale, your company will need to begin following Design Quality requirements and anticipating future compliance requirements. Your company will need to ensure your development activities are reliable, accurate and well documented to ensure that you won't have to repeat them again for your product submission. You will start making decisions about manufacturing, quality, facility and equipment requirements. It will save time and reduce the risk of failure to being implementing quality concepts now.
Clinical/Drug Development
As your company moves to clinical manufacturing scale, your company will be faced with new compliance requirements. Your company will need to ensure your small-scale manufacturing process is consistent and uses reliable equipment to produce your drug product. The clinical trials that you will be undertaking & their purpose is as follows:
Phase 1– Safety & Dosage
Phase 2- Efficacy & Side Effects
Phase 3– Efficacy & Monitoring for Adverse Reactions
Phase 4– Safety & Efficacy (post-approval& optional)
Commercial
As your company moves to commercial manufacturing scale or is currently producing products in an expanding marketplace, your organization will be faced with many challenges. Ensuring your manufacturing processes are consistent, reproducible, and compliant will be a high priority, and scaling up your skilled workforce in the right way is absolutely critical.

Services Offered:
CQV
CSV / CSA
Quality Assurance
Regulatory Affairs
Auditing
Technical Writing
Metrology
Engineering
Manufacturing Execution Systems (MES)
Project Management
About PSC Software

PSC Software® provides industry-leading real-time quality management software to ensure regulatory compliance goals are met while reducing business costs.
ACE® is highly configurable, electronic Quality Management System (eQMS), that can be configured to each organizations specific needs. Hosted with AWS, ACE® is scalable single-platform solution for all quality needs. Key capabilities include Document, Learning, Quality, Inspection, and Supplier Management.
ACE Essentials® is a turn-key electronic Quality Management System (eQMS) that is a fully integrated and compliance quality, document, and learning management system. Essentials helps highly regulated industry startups and small businesses efficiently and economically switch to could-based software.
ACE Inspection® is a cloud-hosted inspection management software to help companies put their best foot forward during regulatory inspections and audits. ACE Inspection® manages all inspection-related tasks such as Scribe Notes, Requests, and File Sharing with the inspector. This software is used by 3of the 4top pharmaceutical companies in the world! Contact us today to receive a demo and find out why they trust ACE Inspection® to make sure they are always prepared for the next audit or inspection! AuditUtopia® powered by ACE captures, tracks, communicates, and sorts audit activities as a real-time Inspection Audit Management System. AuditUtopia® is used to host inspections and audits and is trusted by life science companies worldwide.
Visit biotech.com/psc-partners/ to learn more!
Visit biotech.com/events to check out our in-person and virtual events!
To learn more, please contact:
Professional Services: Matthew Thomas, MThomas@biotech.com
Software Sales: Kory Fleck, KFleck@biotech.com