East West Life Science Summit 2023: Innovating Throughout Our Rural and Underserved Communities
The East West Life Science Summit is an annual conference that fosters and strengthens the vibrant life science organizations, healthcare providers, and public institutions throughout Washington state. This year's theme is Innovating Throughout Our Rural and Underserved Communities.
During the Summit, we'll explore expanding access to healthcare, clinical trials, and research to areas outside of major hubs, bringing new innovations to these areas, growing the contract manufacturing sector, the resources and new programs available to entrepreneurs, sharing workforce strategies to keep our industry strong, and more.
Startups and entrepreneurs play a pivotal role in driving the growth of the ecosystem. During Day 1 of the East West Summit, we'll hold an SBIR/STTR grant writing workshop, then afterward, join us for our exciting networking reception that will gather like-minded life science professionals who are passionate about making changes and bringing innovation to all. On Day 2 of the Summit, learn about a brand new, exciting grant program aimed to support the next generation of life science companies.
---
Panel Discussions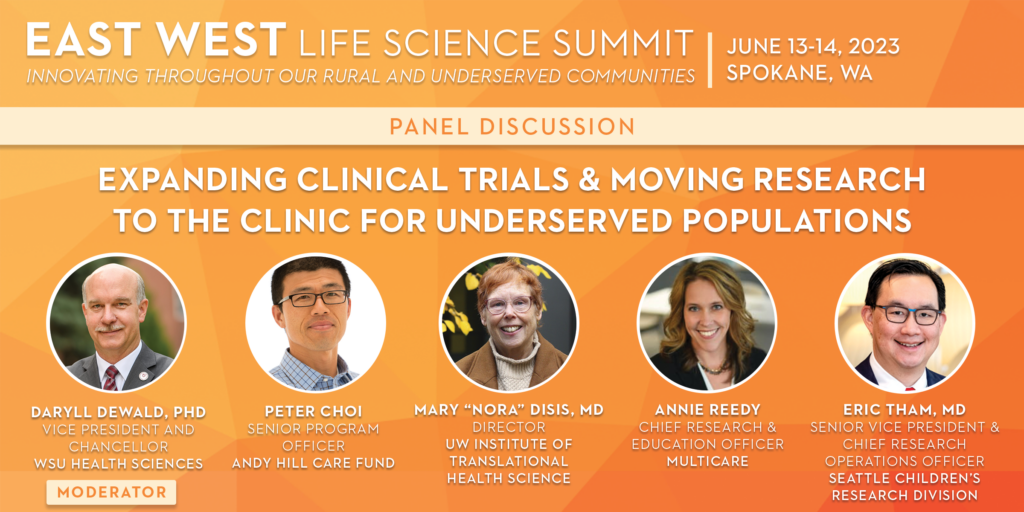 Rural and underserved populations often face significant barriers to accessing clinical trials and benefiting from cutting-edge healthcare innovations, yet Washington is home to a number of world-class institutions with expertise in serving these populations. The panel will explore how Washington is uniquely positioned to address the needs of rural and underserved patients, what is required to accelerate the translation of research to solutions for these patient populations, and what is needed to expand their participation in clinical trials.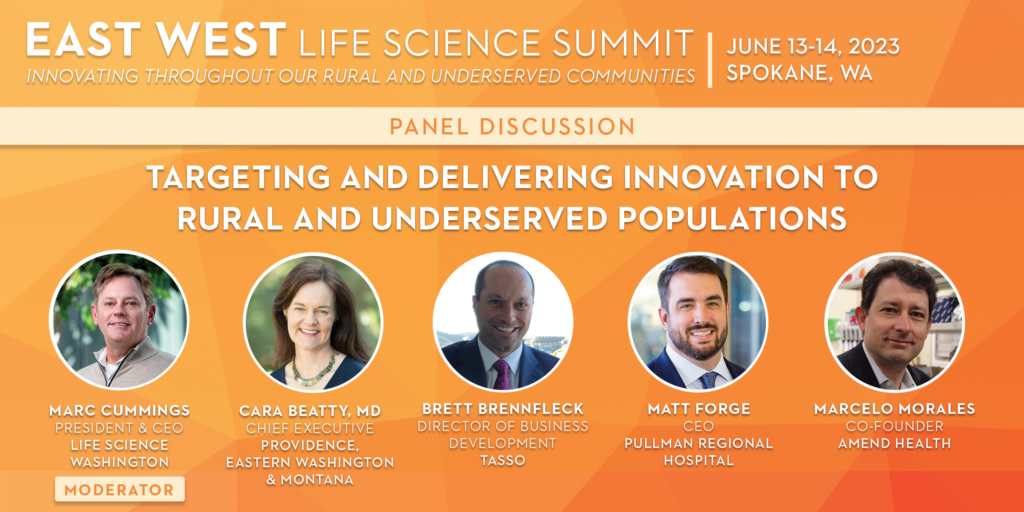 Recently, rural clinics and hospitals have been under significant financial pressure. Developing medical breakthroughs for targeted patient populations is expensive and challenging. Our healthcare system needs innovations that allow us to reach and serve rural and underserved populations more efficiently. This panel brings together providers to discuss the challenges they face in serving rural and underserved populations along with innovators to discuss how they are using technology to reach and serve these patients more effectively.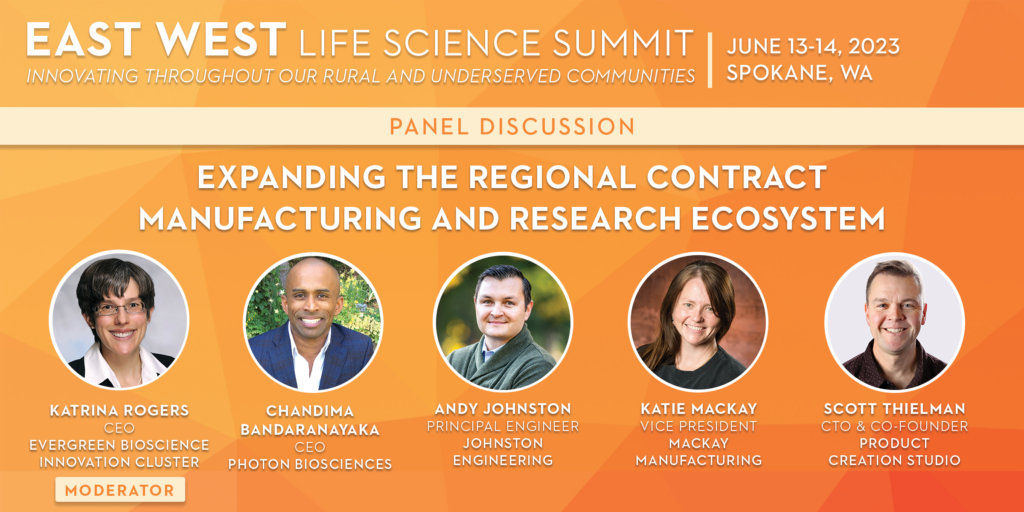 The Northwest has long been known for its robust life science research & development industries. However, there has been a growing need for the expansion of the regional contract manufacturing and research ecosystem due to the increased demand for locally sourced products, a need for more efficient and cost-effective manufacturing processes, and an overall desire to stimulate economic growth in the region. During this panel, experts will discuss critical ways to expand the ecosystem through investing in infrastructure and technology, prioritizing workforce development and education, and fostering collaboration between industry leaders, academic institutions, government agencies, capital partners, and entrepreneurs.
---
Grant Program Announcements

Join us for an exciting announcement from Life Science Washington Institute on two brand new grant programs aimed to provide assistance to startups outside of King County. Learn details on the SBIR/STTR Matching Fund and Washington Competes programs and how our young life science companies can take advantage of these opportunities.
---
Networking Reception


Network with life science professionals during the Networking Reception on June 13 at 5:00 PM in the SIERR building at the Spokane Health Peninsula! The Summit brings together life science professionals from Eastern Washington, Western Washington, and everywhere in between, and this exclusive networking event presents a unique opportunity to expand your professional network and forge valuable partnerships while enjoying tasty appetizers and beverages. You won't want to miss this!
---
Times/Locations
RECEPTION
Date: Tuesday, June 13
Time: 5:00 – 6:30 PM
Location: SIERR building at the Spokane Health Peninsula
850 East Spokane Falls Boulevard
Spokane, WA 99202
CONFERENCE
Date: Wednesday, June 14
Time: 7:30 AM – 3:00 PM
Location: Pharmaceutical and Biomedical Sciences (SPBS) Building on WSU Campus
Walgreen's Auditorium
205 E Spokane Falls Blvd
Spokane, WA, 99202
View a map of the campus with venue locations here.
---
Tickets
Reception and Conference: Members – $160; Non-members – $260
Conference Only: Members – $135; Non-members – $235
Students: $50
---
Parking
Click here to view directions on how to pay for parking
For additional questions on parking at the Washington State University Spokane campus, please email spokane.parking@wsu.edu or call 509-368-6997
---
Media
If you are part of the media and would like a media pass to the East West Life Science Summit, please contact Kaitlyn Grosse, Marketing & Communications Manager at kaitlyn@lifesciencewa.org.
---
Sponsorship
Interested in sponsoring? Contact Dale Willard, PhD, Business Development at dale@lifesciencewa.org or Amanda Tran, Vice President of Membership Services at amanda@lifesciencewa.org.