Life Science Innovation Northwest 2022
Life Science Innovation Northwest (LSINW) is the Pacific Northwest's largest annual life science conference. This one-and-a-half day event will bring together investors, public and private life science organizations, research institutions, scientists, entrepreneurs, and the global health community to discuss and feature some of the most compelling life science breakthroughs of our time.
---
LSINW 2022 Keynote Speakers
Day 1 – Hans Bishop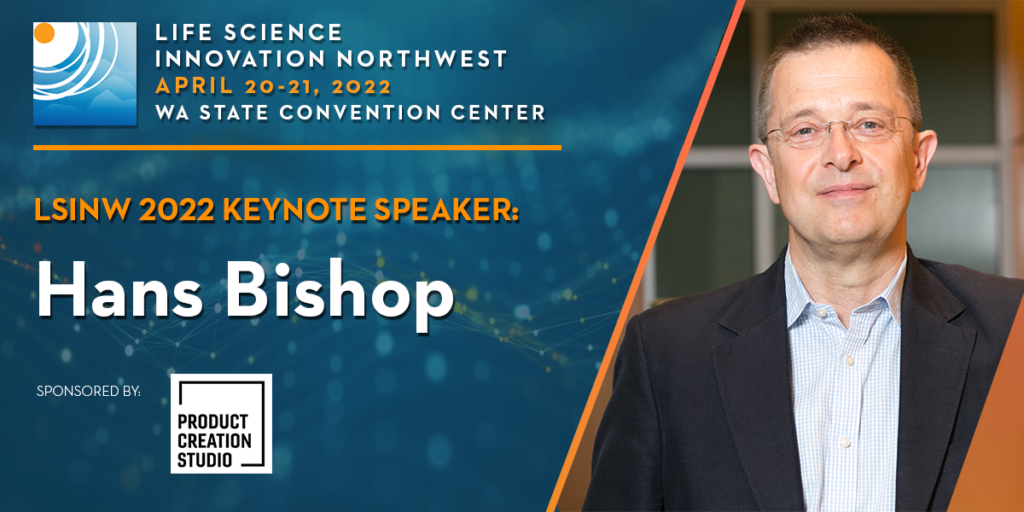 We are thrilled to announce Hans Bishop will keynote day 1 of LSINW! Previous Founder, President, and CEO of Juno Therapeutics, acquired by Celgene in 2018 for $11B, Hans has over 30 years of experience in the biotechnology industry and has held leadership positions in many industry-leading biotech companies.
Day 2 – Patrick Yang, PhD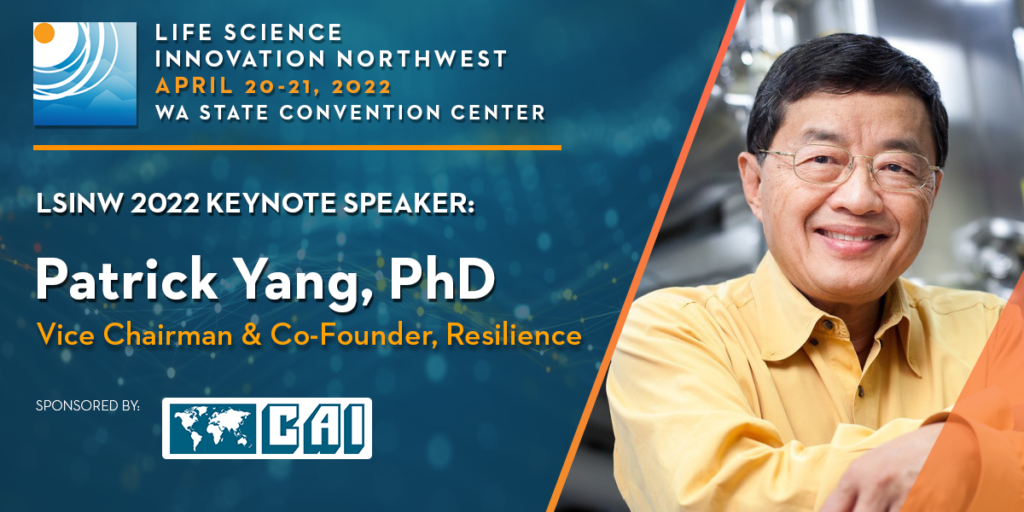 Dr. Patrick Yang is a world-leading biomanufacturing expert and co-founder of Resilience, a first-in-kind manufacturing and services operation providing novel ways to manufacture cell and gene therapies, among others, and supported with over $800M in financing. Previously, Pat was the Executive Vice President and special advisor for Juno Therapeutics and Executive Vice President and Global Head of Technical Operations at Roche, where he was responsible for the company's pharmaceutical process development, engineering, quality, technical regulatory, supply chain, and all manufacturing plants.
---
Industry Legends Interview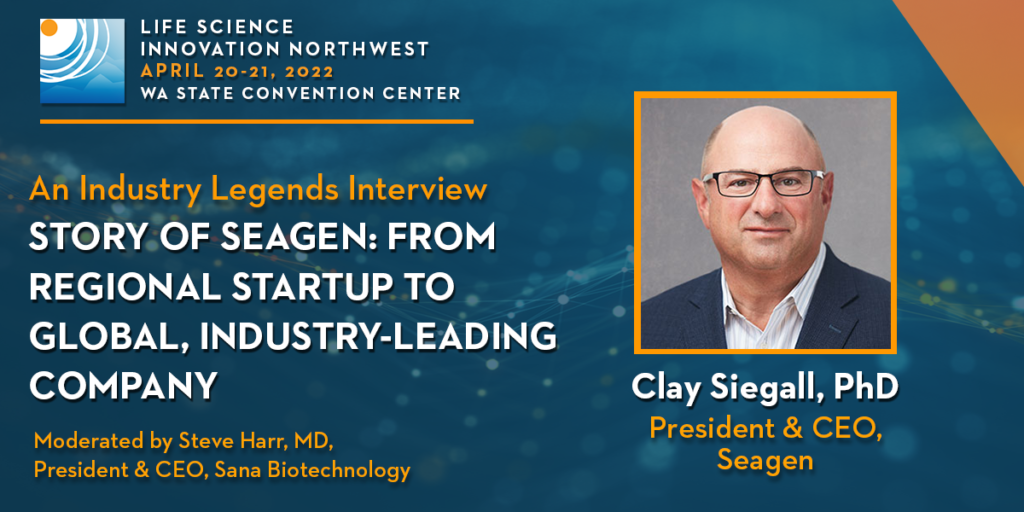 We're thrilled to announce a new signature session to the LSINW 2022 program! Join us for an exciting interview between industry legends Clay Siegall, PhD, President & CEO, Seagen, and moderator Steve Harr, MD, President & CEO, Sana Biotechnology, and 2022 LSINW Program Chair, as they discuss what it takes to bring a company from a regional startup to a global, industry-leading company.
---
Special Panels
Hear inspiring and innovative panel discussions with industry leaders.
Day 1 – April 20
Panel: What It Takes To Translate New Modalities into FDA Approvals

New modalities are coming of age with increasing FDA approvals for Antibody-drug conjugates, cell and gene therapies, DNA and RNA therapies, and bispecific antibodies. Hear from experts who have steered these therapies through approval and the lessons they have learned.
Moderated by Simone Fishburn, PhD, Vice-President and Editor in Chief, BioCentury

Panel: Capital Markets Outlook and Strategies for Building Financially Stable Life Science Companies in Dynamic Times

2021 was a banner year for the Washington's life science sector with a record number of IPOs and near historic levels of investment. However, there have also been large market fluctuations with the biotech market index down considerably and many newly minted public companies seeing depressed valuations. What's the market outlook for publicly traded companies? Can younger companies access capital and grow organically or will more traditional licensing, partnerships, and acquisitions with major pharma become the norm? This panel will hear from a variety of financial deal experts representing different stages of maturity. They will explore how best to raise capital and position themselves for growth in the coming years.
Moderated by: Rita Wang, Managing Director, Piper Sandler, Healthcare Investment Banking

Day 2 – April 21
Panel: Turning New Technologies into Medicines
The new product pipeline is exploding with over 1,200 experimental therapies, many in new modalities such as DNA editing, RNA editing, and bi-specific antibodies. What hurdles must they overcome to translate into clinical trials? How will they be manufactured? How can they be paired with existing treatments?
Moderated by Steve Harr, MD, President & CEO, Sana Biotechnology
2022 LSINW Program Chair
Panel: Next Frontier for Cell Therapies and Autoimmune Disorders
T cells, specifically regulatory T cells (Tregs), are key immune cells that function to suppress the overactivity of other immune cells. Innovations in identifying, characterizing, stabilizing, and editing Tregs make them attractive candidates to advance as next-generation therapies to treat autoimmune conditions, HIV infections, and cancers. Hear from experts who lead these promising therapies while breaking barriers to address potential challenges that lie ahead.
Moderated by Harlan Robins, PhD, Chief Scientific Officer & Co-Founder, Adaptive Biotechnologies
Stay tuned for additional speaker information coming soon!
---
Job & Internship Fair
Due to unforeseen circumstances, the in-person Job & Internship Fair has been canceled. To submit your resume to a participating company, please email your resume to Kathleen Goodfellow.
---
FAQs, Hotel, and Safety Information
Bringing the community together safely is our top priority at LSINW 2022. Please read our FAQ and Safety Information to learn how we plan to offer an in-person conference experience that prioritizes the health of our attendees and the community.
The LSINW room block at the Sheraton Grand Seattle, has been sold out. Thank you for booking your room!
---
Registration Fees
2022 LSINW Registration Rates
Current and Onsite
Displaced Life Science Industry Employee
$550
International Delegate
$550
Investor
$200
LSW Member: Academic, Nonprofit or Government
$550
LSW Member: Associate Service Provider
$1300
LSW Member: Core Company
$1050
LSW Member: Emerging Core Company

*

$525
Non-Member: Core Company
$1350
Non-Member: Academic or Nonprofit
$850
Non-Member: Service Provider
$1600
Qualified Media
$0
Reception Only
Industry Reception Only – Members
$250
Industry Reception Only – Non-Members
$350
Virtual
Group Pass – Company Presentations
$1000
Individual Pass – Company Presentations
$400
*Contact kathleen@lifesciencewa.org to secure your promo code.
---
Sponsorship Opportunities
Interested in sponsoring? Contact Dale Willard, PhD, Business Development at dale@lifesciencewa.org or Amanda Tran, Vice President of Membership Services at amanda@lifesciencewa.org.*