Life Science Innovation Northwest
---
Life Science Innovation Northwest (LSINW) is the Pacific Northwest's largest annual life science conference. This live virtual one-and-a-half day event will bring together investors, public and private life science organizations, research institutions, scientists, entrepreneurs, and the global health community to discuss and feature some of the most compelling life science breakthroughs of our time.

Program Highlights
Announcing 2021 keynote speaker Daphne Koller, PhD, CEO & Founder, insitro!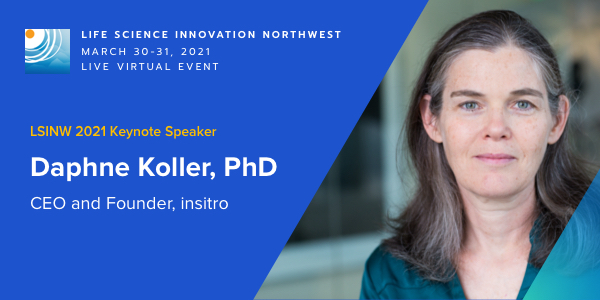 Panel: There's No Going Back
Discover how changes accelerated by the pandemic in telehealth and remote patient monitoring are transforming care delivery and impacting drug development.
Moderated by Robert Overell, PhD, President of Foundation BioVentures.
Panel: Paying for Innovation
Join us for a lively conversation about the kinds of drug pricing reforms our industry can support, that expand incentives for innovation without causing the financial burdens for patients and families we see too much of today.
Moderated by Luke Timmerman, journalist at the Timmerman Report.
Panel: The Power of Next Gen Cell Therapies: Pipedreams or Reality?
Cellular therapies have made a major impact in hematologic malignancy. This session will examine how we can extend and expand the use of cellular based immunotherapies for a greater diversity of cancers and in a greater diversity of clinical settings. Innovation in engineering cutting edge products will also be discussed.
Moderated by Thomas Lynch, MD, President & Director at Fred Hutch.
Check back for more speaker and panel announcements.
---
Apply to Present

Pitch your company's story, pipelines, and objectives on a virtual stage to an audience of business development executives, investors, media and get more meetings scheduled.
---
Registration Fees
Organizations that want to send several of their employees can take advantage of a flat $1,000 registration fee for unlimited passes.
| | |
| --- | --- |
| Category | Fee |
| *Emerging | $150 |
| Members | $295 |
| Non-members | $495 |
| *Students | Complimentary |
| *Job Seekers/WIN | $150 |
| *Investors | Complimentary |
| *Unlimited passes | $1,000 |
| | |
| | |
| * Needs promo code | |
Contact kathleen@lifesciencewa.org to secure your Organization Pass and promo codes as mentioned.
Interested in sponsoring? Contact Dale Willard, PhD Business Development at dale@lifesciencewa.org or Amanda Tran, Vice President of Membership Services at amanda@lifesciencewa.org
Check back for more information!