Life Science Innovation Northwest
---
Life Science Innovation Northwest (LSINW) is the Pacific Northwest's largest annual life science conference. This live virtual one-and-a-half day event will bring together investors, public and private life science organizations, research institutions, scientists, entrepreneurs, and the global health community to discuss and feature some of the most compelling life science breakthroughs of our time.

Program
Announcing the 2021 keynote speakers Amy Abernethy, MD, PhD, Principal Deputy Commissioner, FDA, and Daphne Koller, PhD, CEO & Founder, insitro!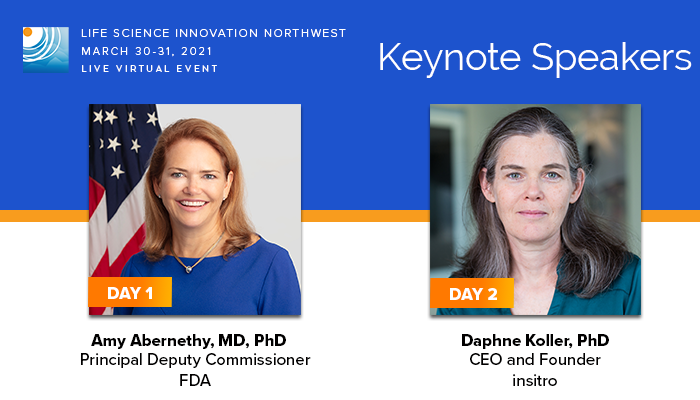 Panel: There's No Going Back
Discover how changes accelerated by the pandemic in telehealth and remote patient monitoring are transforming care delivery and impacting drug development.
Moderated by Robert Overell, PhD, President of Foundation BioVentures.
Panel: New Treatments and Potential Cures in Alzheimer's Disease and Neurodegeneration: The Future is Here!
This panel will discuss the rapidly evolving scientific landscape in neurodegeneration, historically a very challenging space. Are there valid reasons to be optimistic in the near-to-mid-term? The panel will cover a number of hot topics, including the wide array of approaches under examination in Alzheimer's; the utility of biomarkers in CNS; and the impact of genetics on CNS drug development, patient enrichment strategies and the discovery of new targets.
Moderated by Paul Matteis, Managing Director, Biotech, Stifel
Panel: The Power of Next Gen Cell Therapies: Pipedreams or Reality?
Cellular therapies have made a major impact in hematologic malignancy. This session will examine how we can extend and expand the use of cellular based immunotherapies for a greater diversity of cancers and in a greater diversity of clinical settings. Innovation in engineering cutting edge products will also be discussed.
Moderated by Thomas Lynch, MD, President & Director at Fred Hutch.
Panel: Paying for Innovation
The time is right for a lively conversation about the kinds of drug pricing reforms our industry can support, that expand incentives for innovation without causing the financial burdens for patients and families we see too much of today.
Moderated by Luke Timmerman, journalist at the Timmerman Report.
Panel: Strategic Sandpits: What Innovations Are Driving Corporate Interest in BioPharma?
This panel will discuss how strategic investors plan to balance innovative biology with advanced data and digital technologies as they build out their portfolios.
Moderated by Simone Fishburn, PhD, VP and Editor in Chief at BioCentury.
Panel: Where Are We Now on COVID-19?
The COVID-19 pandemic has revealed the political, economic, and social gaps in our society in a way that many in the US haven't encountered before. Diagnostic testing has emerged as one of the more significant infrastructure gaps: from COVID test development, distribution, and payment, through to public surveillance to monitor the ongoing viral spread and its mutations. This panel will touch on various aspects of COVID-19 testing while considering a looming existential question: will we be ready for the next pandemic?
Moderated by Mike Pellini, MD, Managing Partner at Section 32.
---
Company Presentations, Fast Pitch Showdown, and Poster Presentations

At LSINW 2021, hear over 70 presentations from the region's most promising and influential companies and institutions, attend the fast pitch showdown where young entrepreneurs compete for a prize of $5,000, and view poster presentations by scientists from Washington universities, research institutes, and startups! See the complete schedule for Company Presentations here.
---
Registration Fees
Organizations that want to send several of their employees can take advantage of a flat $1,000 registration fee for unlimited passes.
| | |
| --- | --- |
| Category | Fee |
| *Emerging | $150 |
| Members | $295 |
| Non-members | $495 |
| *Students | Complimentary |
| *Job Seekers/WIN Mentors | $150 |
| *Investors | Complimentary |
| *Unlimited passes | $1,000 |
| | |
| | |
| * Needs promo code | |
Contact kathleen@lifesciencewa.org to secure your Organization Pass and promo codes as mentioned.
Interested in sponsoring? Contact Dale Willard, PhD Business Development at dale@lifesciencewa.org or Amanda Tran, Vice President of Membership Services at amanda@lifesciencewa.org