Washington State Medical Device Summit 2022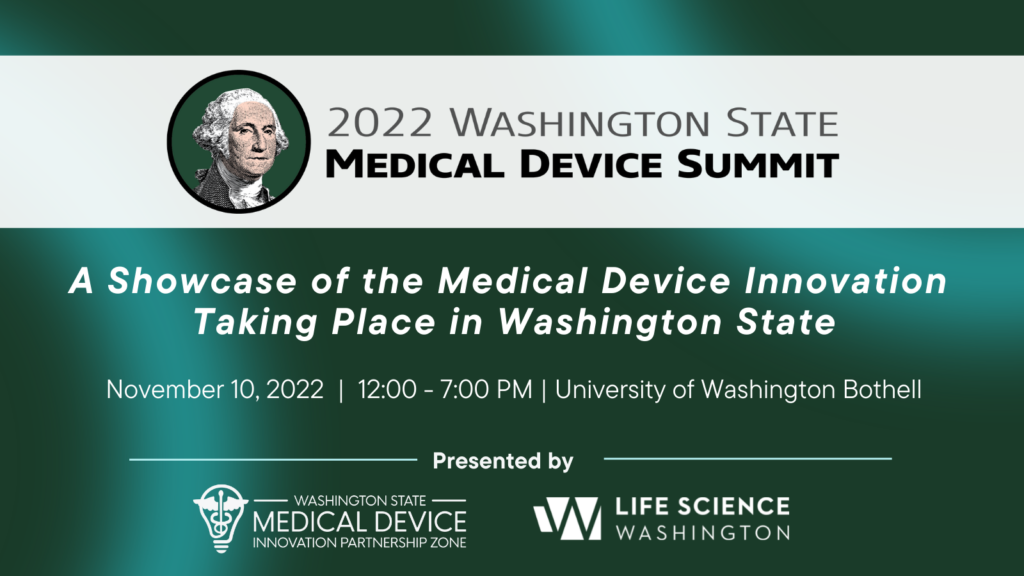 The fourteenth annual Washington State Medical Device Summit will bring together industry executives, entrepreneurs, researchers, government officials, and other key thought leaders from the medical device industry and showcase innovation taking place in Washington State.
Join us on November 10, 2022 at the University of Washington Bothell campus, to hear inspiring panel discussions, a "State of the Industry" keynote by David Cassak (The MedTech Strategist), an Industry Legends interview with Hanson Gifford (The Foundry and Lightstone Ventures), remarks by Congresswoman Suzan DelBene, a networking reception, and much more. This year's program will also feature segments on career development in the medical device sector, the regulatory and reimbursement environment, and digital health.
PRICING:
Summit pricing: $95
Student pricing: $25
COVID SAFETY INFORMATION
As the COVID-19 global pandemic continues, Life Science Washington is both cautiously optimistic and prepared to manage our in-person events with the health, safety, and well-being of our attendees, staff, presenters, sponsors, and speakers in mind. Life Science Washington expects all participants to comply with current CDC, state, and local COVID-19 related guidelines, rules, and requirements as they continue to evolve. Mask wearing is encouraged, though not required.
If you have tested positive for COVID-19, are still within your quarantine or isolation time and have not since received a negative COVID-19 test result, please do not attend.
If you're experiencing any COVID-19 symptoms (such as muscle or body aches, fever, cough, sore throat, runny or stuffy nose, etc.) within 5 days of the event, please test yourself, before considering attending.
If you have been in close contact* with someone who has tested positive or is suspected to have COVID-19, and 10 days has not passed since your contact, please do not attend.
*Close contact means being within 6 feet of an infected/symptomatic person for at least 15 minutes cumulatively over a 24-hour period (starting 48 hours before the symptomatic person's onset of illness or 48 hours before the asymptomatic person's lab specimen collection until the person meets criteria for discontinuing their isolation).