East West Life Science Summit 2022
This year's theme is focused on the expansion of life science manufacturing and the innovation happening across the state.
The East West Life Science Summit is an annual conference meant to foster and strengthen the vibrant life science organizations, healthcare providers, and public institutions throughout Washington State. The goal of the summit is to elevate the visibility of life science research, discovery, entrepreneurship, and innovation throughout the state and foster cross-state collaboration through information sharing and networking opportunities. The Summit also provides an opportunity to expose students to the life science ecosystem in Washington state and encourage them to pursue careers in the life sciences.
---
KEYNOTE ADDRESS: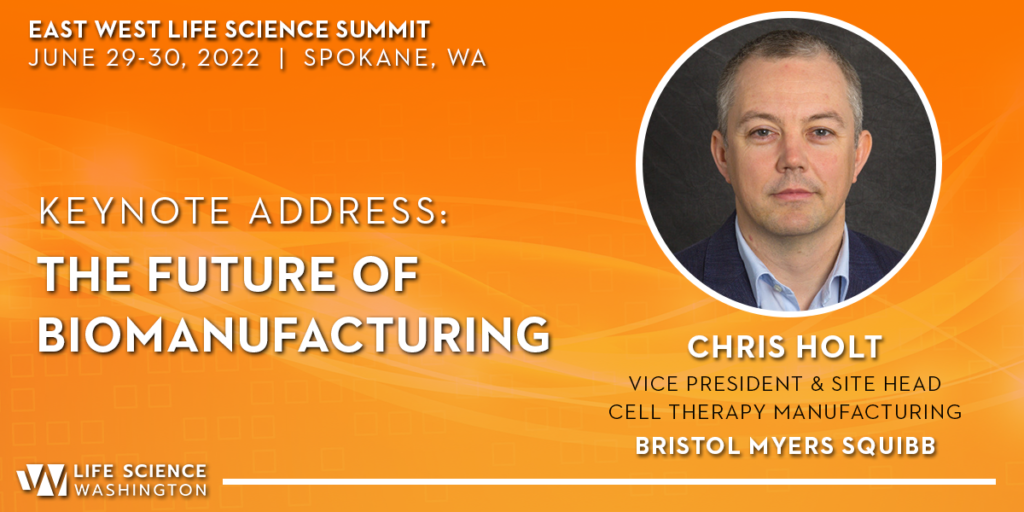 Chris Holt, Vice President & Site Head, Cell Therapy Manufacturing at Bristol Myers Squibb
The field of biomanufacturing is changing dramatically as the industry moves from the production of small molecules to complex biologics as well as cell and gene therapies. Bristol Myers Squibb is a global leader in the development and production of some of the world's most complex personalized cell therapies. In this keynote address, Chris Holt, will discuss the future of biomanufacturing both locally and globally.
---
STATE LEADERS: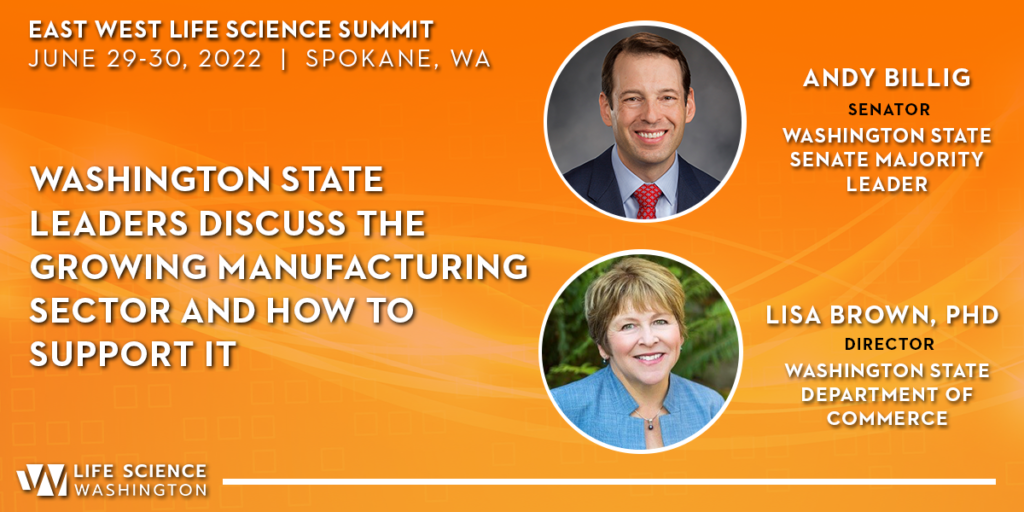 At this year's Summit, hear from elected and appointed officials including Senator Andy Billig and Washington State Department of Commerce Director, Dr. Lisa Brown. This is an exciting opportunity to hear from our state's leaders about Washington's goal to double the manufacturing sector and learn about the new R&D and manufacturing tax credit designed to support growth outside of Puget Sound.
---
FIRESIDE CHAT: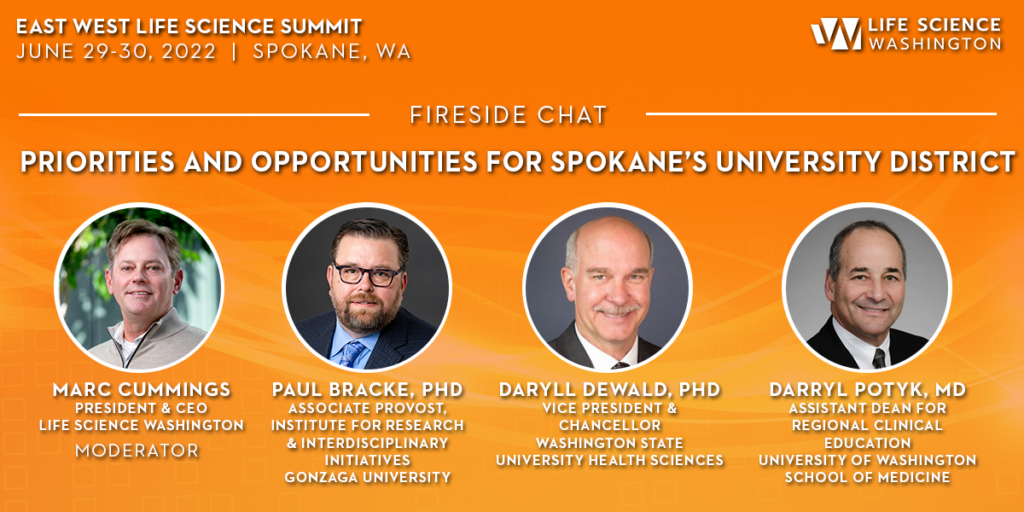 Hear from leaders from our state's biggest universities as they discuss their priorities and opportunities for Spokane's University District.
---
PANEL DISCUSSIONS:
Hear inspiring and innovative panel discussions with industry leaders.
Panel: Growing & Sustaining Life Science Manufacturing Across Washington
Life science manufacturing has grown dramatically in Washington state over the past few years. Today, Washington life science companies support the manufacturing of an incredible range of products ranging from fill and finish facilities, to the production of biologics, to COVID-19 vaccines, to personalized cell therapies, and medical devices. This panel will discuss the future of life science manufacturing in Washington, as well as the infrastructure, workforce, and business climate that will need to be in place to support its continued growth.
Panel: Evergreen Bioscience Innovation Cluster: Building Contract Research, Development, and Manufacturing Capacity
Evergreen Bioscience Innovation recently received state funding to expand contract services for life science research, development, and manufacturing across the state. This panel will discuss the opportunities for companies providing and consuming contract services to partner and grow in Washington.
Panel: Entrepreneurial Resources to Grow the Next Generation of Companies
Washington's life science ecosystem is built on homegrown companies. However, launching and growing a life science company can be an expensive and challenging task. Washington has a variety of resources located throughout the state to help early-stage life science companies access capital and build partnerships to help them succeed. In this panel, you'll hear from a panel of experts on what resources are available to help entrepreneurs thrive.
Panel: Building a Talent Pipeline for Biomanufacturing
Due to the dramatic expansion of biomanufacturing in the state, Washington now needs to develop a biomanufacturing workforce that can support this growing industry. This panel will look at what needs to be done from credentialing, to developing workforce training programs, to creating innovative industry higher education partnerships to develop a competitive workforce in Washington.
---
RECEPTION
Date: Wednesday, June 29
Time: 5:00 – 6:30 PM
Location: Spokane Academic Center (SAC) on WSU Campus
3rd Floor Lobby
600 North River Point Blvd.
Spokane, WA, 99202
CONFERENCE
Date: Thursday, June 30
Time: 7:30 AM – 3:00 PM
Location: Pharmaceutical and Biomedical Sciences (SPBS) Building on WSU Campus
Walgreen's Auditorium
205 E Spokane Falls Blvd
Spokane, WA, 99202
View a map of the campus with venue locations here.
TICKETS:
Reception and Conference: Members – $150; Non-members – $250
Conference Only: Members – $125; Non-members – $225
Students: $50
---
COVID SAFETY INFORMATION:
As the COVID-19 global pandemic continues, Life Science Washington is both cautiously optimistic and prepared to manage our in-person events with the health, safety, and well-being of our attendees, staff, presenters, sponsors, and speakers in mind. Life Science Washington expects all participants to comply with current CDC, state, and local COVID-19 related guidelines, rules, and requirements as they continue to evolve. Mask wearing is encouraged, though not required.
If you have tested positive for COVID-19, are still within your quarantine or isolation time and have not since received a negative COVID-19 test result, please do not attend.
If you're experiencing any COVID-19 symptoms (such as muscle or body aches, fever, cough, sore throat, runny or stuffy nose, etc.) within 5 days of the event, please test yourself, before considering attending.
If you have been in close contact* with someone who has tested positive or is suspected to have COVID-19, and 10 days has not passed since your contact, please do not attend.

*Close contact means being within 6 feet of an infected/symptomatic person for at least 15 minutes cumulatively over a 24-hour period (starting 48 hours before the symptomatic person's onset of illness or 48 hours before the asymptomatic person's lab specimen collection until the person meets criteria for discontinuing their isolation).
---
PARKING:
Click here to view the campus map for parking locations
Click here to view directions on how to pay for parking
For additional questions on parking at the Washington State University Spokane campus, please email spokane.parking@wsu.edu or call 509-368-6997
---
MEDIA:
If you are part of the media and would like a media pass to the East West Life Science Summit, please contact Kaitlyn Grosse, Marketing & Communications Manager at kaitlyn@lifesciencewa.org.
---
SPONSORSHIP:
Interested in sponsoring? Contact Dale Willard, PhD, Business Development at dale@lifesciencewa.org or Amanda Tran, Vice President of Membership Services at amanda@lifesciencewa.org.